Are you looking for the best spine doctor in Houston, Texas? Do you think that your spine injury or pain is giving you a hard time? If yes, then it will be beneficial for you to get in touch with Dr. G. Silky Patel – a professional and well-experienced spine and sports doctor in Houston.
Back pain or spine pain can be seen commonly among teenagers, adults, and senior or aged people. There are many reasons that can lead to chronic spine pain that can make your work and life miserable. Whether you have tweaked your back when helping your friend move a couch or if you have lifted something heavy, there are chances that you may have sudden pain in your back. Spine pain can also be caused by any accident or injury from falling from a height or a rapid jerk or movement of your body.
Be it a spine injury, spine surgery, or any kind of spinal pain that you are suffering from, Dr. Silky Patel can help ease up the pain by offering exceptional spine treatment and care. Dr. Silky Patel will not only listen to your problems but also examine the painful areas before suggesting  treatment or therapy. Dr. Patel holds expertise with spine and sports treatment and she can help you with:
Spine and Back Pain Treatment
Minimally Invasive Surgical Treatment
Advanced Surgical and Non-Surgical Treatments
Epidurals
Steroid injections
Why Should You Visit The Best Spine Doctor in Houston?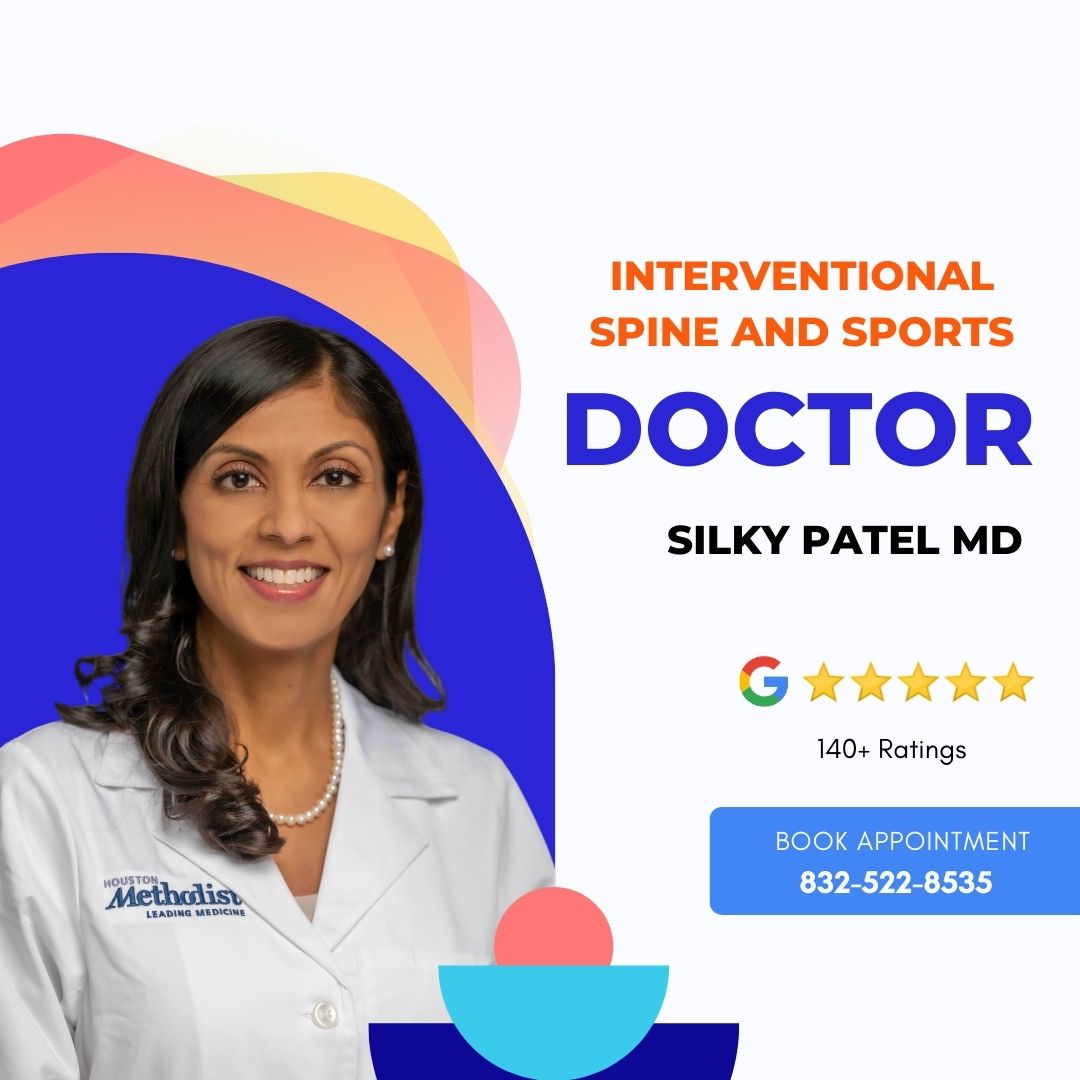 When you are diagnosed with any disease, pain, or issue related to the spine, the first thing you should do is visit an spine specialist for effective treatment. To get lasting pain relief from spinal pain, it is sure that you will be searching for a "spine doctor near me". But you need to know that there are many spine specialists available, so, choose the best spine doctor in Houston – Dr. Silky Patel (Pain Management Expert).
Some individuals may try out home remedies for spine pain before consulting with a professional doctor. Although there is nothing wrong with trying out effective home treatments for spine pain, you should reach out to a spine doctor if the pain does not go away. Here are some reasons why you should be consulting a spine specialist.
Chronic Pain: If you are experiencing chronic pain in the spine, you should consult with a spine doctor or specialist.
Bowel Issues with Spine Pain: If you have been suffering from bowel or bladder issues along with spinal pain, it will be beneficial to visit a spine doctor and get the best suitable treatment to alleviate pain.
Leg Pain Associated with Spinal Pain: it would be beneficial to schedule an appointment with the best spine doctor in Houston if you are suffering from pain or numbness in the leg along with moderate to severe pain in the back.
Fever with Spine Pain: If you are experiencing back pain along with fever,, you should visit your nearest spine doctor to check for any possibility of infections.
Contact Dr. Silky Patel – Interventional Spinal and Sports Doctor
Dr. Silky Patel is double board-certified in pain management and physical medicine & rehabilitation. She has been serving patients with back and spine pain for more than 15 years and hence, has expertise in treating back pain and spine pain using invasive and non-invasive measures. Dr. Silky Patel is the best spine doctor in Houston who can help alleviate chronic back and spine pain. She is well-versed and highly experienced with treatments and surgeries related to spine pain to keep their patients free from pain. Reach out to Dr. Patel at 832-522-8535 or click here. Also, follow Dr. Silky Patel on Facebook, Instagram, Twitter, LinkedIn, and YouTube. For more information about Dr. Patel's Clinic, Reviews, and Address, visit Google My Business.