Many people take lower back pain and fever lightly when they shouldn't. But those who are suffering from it seek home treatment, causes, and ask when is the right time to visit a doctor. Back pain is one of the most common conditions that almost everyone will suffer from at some point in their life.  Pain in your back can be caused due to numerous reasons or causes but when you are experiencing pain in the lower back along with fever, it is something to take seriously.
Lower back pain and acute back pain can mostly be found among adults and teenagers. Such conditions may arise due to various things. When you are lifting something, twisting your body, or bending down, there is a chance you could develop low back pain. Sometimes, people get low back pain and fever together.  This could not only result in sleepless nights but also in weakness, pain, and numbness in the body. Hence, it is important to have an understanding of the signs and symptoms that signal the need for treatment.
Lower back pain could lead to a feeling of weakness in a person's lower body due to nerve compression from ligament damage or a bulging disc in the low back that presses on nerve roots.
Lower back pain with fever may disrupt your everyday life and work routine. There are some effective treatments and ways to cure lower back pain and fever.
Lower Back Pain With Fever Causes
Generally, low back pain may happen due to lifting, stretching, bending, or twisting and will be gone within a day or two on its own. With proper rest and some over-the-counter medications, your back pain may resolve. However, if the pain in your low back doesn't vanish and if you are experiencing a high fever along with backache, you need to understand that proper medical attention is required. Lower back pain and fever may lead to serious health problems for which you need to visit a professional back pain doctor.
Fever, high or low, indicates that there is an infection in your body that may require quick treatment or cure. Your healthcare provider or pain doctor may run some tests while diagnosing your low back pain to find out the root cause. Low back pain accompanied by unresponsive fever can be a sign of serious infection. If there is any kind of infection you are diagnosed with, then your treatment will be determined based on the cause of the pain or infection. You may be prescribed some antibiotics or medications along with resting properly. Some of the most common causes of lower back pain and fever are as follows:
Muscle stiffness and ligament sprain
Serious trauma or fractures
Severe Bulging disc, sciatica, or arthritis
Infections related to the spine, back, kidney, pelvic, or bladder
Back pain and pyrexia (fever) can also be the early signs of,
Spine cancer
Pyelonephritis (Infection related to the kidney)
Osteomyelitis (Infection related to bone)
Severe Muscle injury or damaged tissue
Other medical conditions
What is a Spinal Epidural Abscess?
If you are experiencing low back pain along with heightened body temperature and bladder or bowel problems, then there are chances that it could be a Spinal Epidural Abscess – infection in the epidural space. A spinal epidural abscess is a collection of pus that forms in the space between the skull and vertebrae. This is a serious complication of infection that can occur in the spine, usually due to a bacterial infection.
A spinal epidural abscess can lead to the compression of the spinal cord due to the formation of pus and it is often accompanied by an underlying infection. Due to the high chance of the nervous system getting damaged, there is no room for inaccurate diagnosis. We recommend that one should get treatment from the best back and spine pain doctor.
Spinal epidural abscesses are rare but can be dangerous, especially if they have not been diagnosed early. It's important to seek medical help as soon as possible if you experience any of the following symptoms:
Pain in your back or neck
Fever or chills
Weight loss or gain
Who Should Get Treatment For Lower Back Pain With High Fever?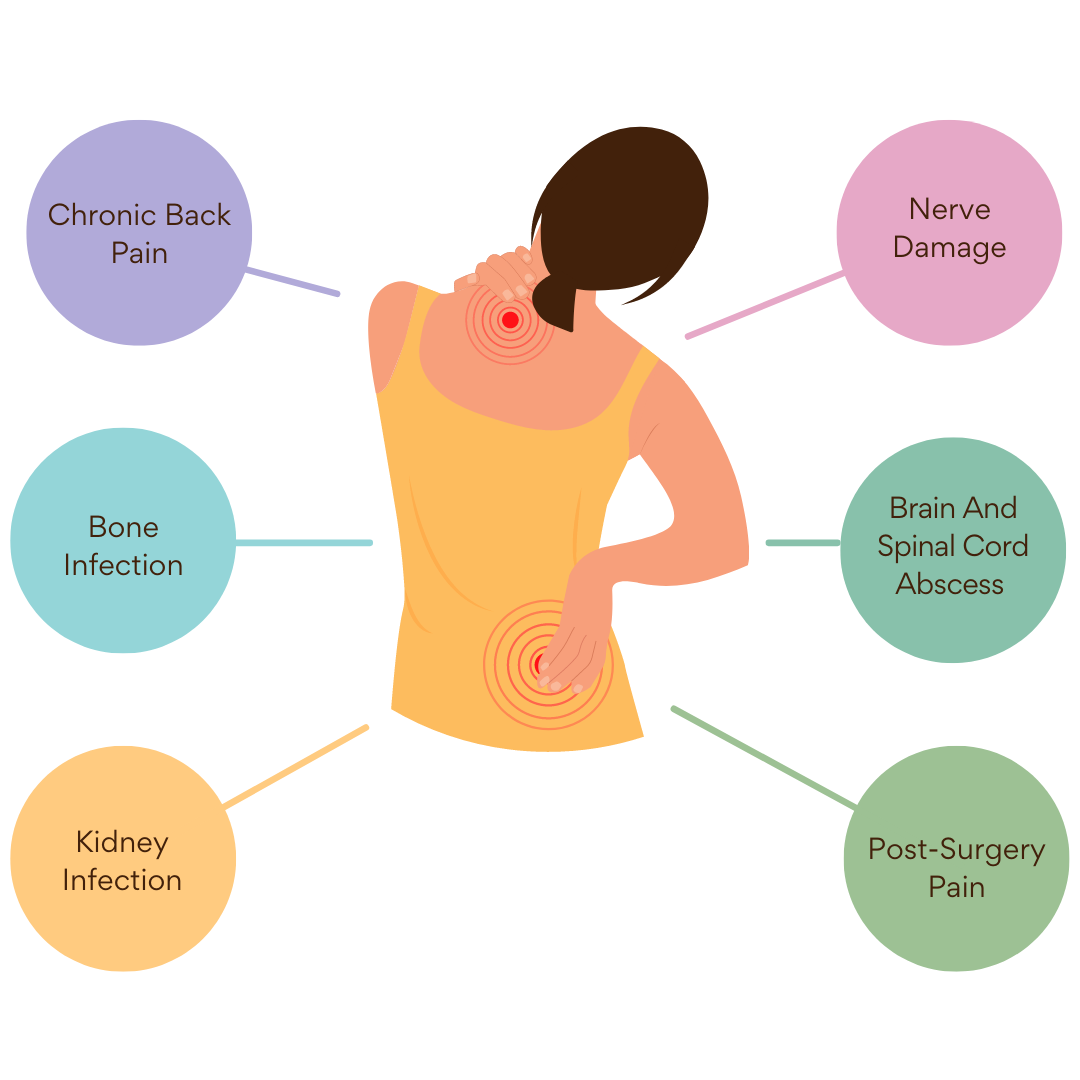 Well, it is sure that a professional pain management doctor is the best person to manage these patients and provide them with relief from their symptoms. It is essential for a physician to know how an individual with a history of heart disease, diabetes, or other cardiovascular problems should be handled differently when they are suffering from back pain. But if you want to determine whether you should visit a doctor or not, then you can go through the below points. One should get medical assistance if you are experiencing,
Bone infection
Brain and spinal cord abscess
Kidney infection
Meningitis
Post-surgery pain
Vertebral infections
Get Professional Treatment For Lower Back Pain and Fever From Dr. Silky Patel
If you want to get effective treatment for lower back pain with or without fever, please feel free to schedule a friendly consultation with Dr. Silky Patel, an experienced and well-versed pain management doctor in Houston, Texas. She holds enough experience and expertise to cure her valued patients of spine and back pain. After diagnosing and finding the root cause of your lower back pain, Dr. Patel will suggest an efficient solution and treatment. To get low back pain and fever treatment, kindly contact Dr. Silky Patel MD at 832-522-8535.
To get the latest updates on various treatments, kindly follow Dr. Silky Patel MD on her social media handles – Facebook, Instagram, Twitter, LinkedIn, and YouTube.